.
JOIN US ON THE FIRST DAY OF THE NORTHERN GREEN
Northern Green Workshop: Current and Emerging Tree Pests
Providing the latest information on tree pest issues.

Tues., Jan. 10, 2017

9:00 a.m.
Emerald Ash Borer Update: Where is it Now? How Bad? What is the Future?
Mark Abrahamson, Minnesota Dept. of Agriculture

10:00 a.m.
Asian Longhorn Beetle and Other Insects on the Horizon
Gretchen V. Pettis, Ph.D., Bartlett Tree
Invasive species are said to pose the second largest threat to nature after habitat destruction. News of 'alien menaces' is certainly becoming more widespread as these introduced interlopers enter the urban forest… and our backyards! However, are all invasive species equal in their potential for disruption and destruction? Learn about the biological and human factors that contribute to the relative damage potential of the most recent invasive insect species as well as for potential invasive threats on the horizon.

11:00 a.m.
Risk Factor: When Ash Trees Die and Fall Apart
Mike Dye, S & S Tree Service

1:00 a.m.
What is the Best Way to Treat Ash Trees?
Best Management Practices
Rich Hauer, Ph.D. Professor of Urban Forestry,
University of Wisconsin / Stevens Point
Planning for EAB is a first and important step rather than dwelling in the EAB financial blues? Urban forestry & arboriculture management approaches including economic analysis, debris management, tree risk assessment, and other strategies are part of shifting the blues back to keeping the green in your urban forest. Learn how to estimate the costs and net benefits associated with pre-emptive removal, post-mortem removal, and treatments. Regardless if you like it or not, EAB will cost communities and property owners money. Managing for the net value of the urban trees is one way to reduce the pain.

2:00 p.m.
Don't Hate Me for not Recommending Your Favorite Tree
Chad Giblin, University of Minnesota
Everyone has their favorite tree - and why not? That's why many folks enter this field. Playing favorites, however, can lead to big problems in the urban forest. It's up to industry professionals to educate clients and constituents that an adaptive and resilient forest of the future is one that's diverse and may not include all of our favorites.

3:00 p.m.
Which Rooting Type is Right for You?
A Cost/Benefit Perspective for Community Landscapes
Gary Johnson, University of Minnesota
Every tree rooting type - B&B, Bare-rooted, Gravel Bed Bare-rooted and Containerized - has its own niche in establishing residential and municipal landscapes. Some are less expensive and easier to handle. Some establish better in minimally-managed landscapes. Some offer the option of large sizes. Some have been modified to produce more functional root systems. This is truly an instance where "one size does not fit all." This session will present an objective perspective of matching the best rooting type to your budget, your landscape and your timelines for achieving that finished product that you dreamed up on the drafting board.


Go to. www.northerngreen.org to register. 3-day Pass required.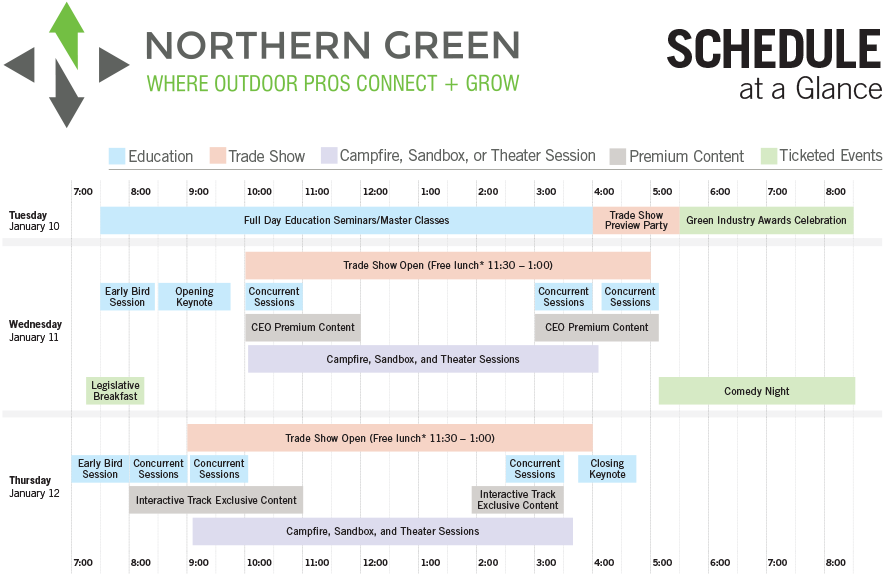 Below is a preliminary version of the schedule for Northern Green 2017. Please note: This schedule is subject to change at any time.
7:30am – 4:00pm: Full Day Education Seminars/Master Classes
4:00pm – 5:30pm: Trade Show Preview
5:30pm – 8:30pm: Awards & Research Showcase Celebration
7:15am – 8:15am: MNLA Legislative Breakfast
7:30am – 8:20am: Early Bird Session
8:30am – 9:45am: Opening Keynote
10:00am – 5:00pm: Trade Show Open
10:00am – 11:00am: Concurrent Sessions
10:05am – 3:00pm: Campfire and Innovation Theater Sessions
3:00pm – 4:00pm: Concurrent Sessions
3:05pm – 4:10pm: Campfire and Innovation Theater Sessions
4:15pm – 5:15pm: Concurrent Sessions
5:15pm – 8:30pm: Comedy Night
7:00am – 8:00am: MNLA Annual Meeting
7:00am – 8:00am: Early Bird Session
8:00am – 9:00am: Concurrent Sessions
9:00am – 4:00pm: Trade Show Open

9:05am – 10:05am: Concurrent Sessions
9:10am – 2:15pm: Campfire and Innovation Theater Sessions
10:45am – 11:45am: MPSTMA Annual Meeting
12:30pm – 1:30pm: MGCSA Annual Meeting
2:30pm – 3:30pm: Concurrent Sessions
2:35pm – 3:40pm: Campfire and Innovation Theater Sessions
3:45pm – 4:45pm: Closing Keynote
Disclaimer
Although every reasonable effort is made to provide the speakers, topics, and sessions listed, some changes or substitutions may occur. Speakers and sessions are subject to cancellation or change up to and including the day the session(s) are scheduled to be held. Changes or cancellations are made at the discretion of MNLA/MTGF and may be done without notifying attendees. If sessions are changed or cancelled no refunds should be expected. Submission of the registration form acknowledges acceptance of this provision.